Saratoga Luxury Spas

The Saratoga Spa Luxury Line still provides the ultimate in hydrotherapy as well as state of the art conveniences. Through multiple styles, size options, and performance the Luxury Line will provide value and the confidence that you have made the right decision. The tradition of the Luxury Line is for all those who enjoy a little pampering from a busy life.
For pricing, please call our Chelmsford location at 978-250-0106, or our Leominster location at 978-537-7223.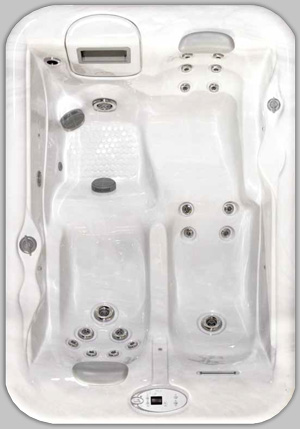 Polo
57″ W x 29″ H x 80″ L
Dry Weight: 385 LB
Average Full Weight: 1638 LB
Seating Capacity: 2
Jets:2 Passive Impact , 19 Direct Impact, 1 Whisper Clean, 1 Vortex, Valves: 2
Power: 220V/50A
Heater: 4kw
(1) 2-Speed Pump 240 GPM
(1) Circulation Pump: 35 GPM
Luxury Splash™ LED Lighting: Standard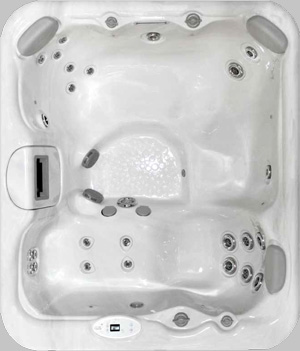 Adelphi
67″ W x 29″ H x 80″ L
Dry Weight: 500 LB
Average Full Weight: 2504 LB
Seating Capacity: 2-3
Jets:4 Passive Impact CFE, 25 Direct Impact, 1 Whisper Clean, 1 Vortex
Valves: 4
Power: 220V/50A
Heater: 4kw
(1) 2-Speed Pump 240 GPM
(1) Circulation Pump: 35 GPM
Luxury Splash™ LED Lighting: Standard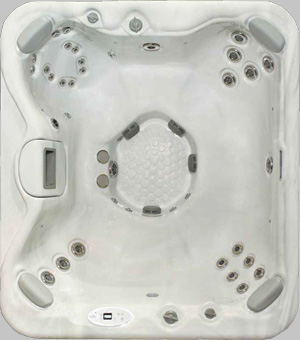 Putnam
75″ W x 36″ H x 84″ L
Dry Weight: 620 LB
Average Full Weight: 3457 LB
Seating Capacity: 4-5
Jets: 4 Passive Impact CFE, 35 Direct Impact, 1 Whisper Clean, 1 Vortex
Valves: 4
Power: 220V/50A
Heater: 4kw
(1) 1-Speed Pump 195 GPM
(1) 2-Speed Pump 195 GPM
(1) Circulation Pump: 35 GPM
Luxury Splash™ LED Lighting: Standard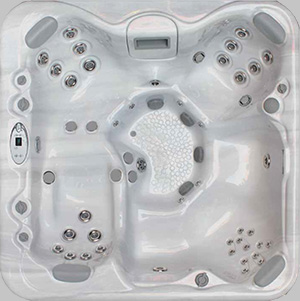 Canfield
84″ W x 38″ H x 84″ L
Dry Weight: 750 LB
Average Full Weight: 3880 LB
Seating Capacity: 5-6
Jets: 10 Passive Impact CFE, 52 Direct Impact, Whisper Clean
Valves: 6
Power: 220V/50A
Heater: 4kw
(1) 2-Speed Pump: 240 GPM
(1) 1-Speed Pump: 240 GPM
Circulation Pump: 35GPM
Luxury Splash Lighting: Standard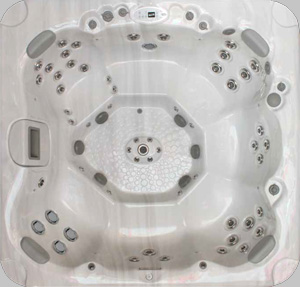 Lincoln
90″ W x 40″ H x 94″ L
Dry Weight: 920 LB
Average Full Weight: 5302 LB
Seating Capacity: 6-7
Jets: 6 Passive Impact CFE, 53 Direct Impact, 1 Whisper Clean, 1 Vortex, 2 LED Laminar
Valves: 8
Power: 220V/50A
Heater: 4kw
(2) 1-Speed Pump 390 GPM
(1) 2-Speed Pump 240 GPM
(1) Circulation Pump: 35 GPM
Luxury Splash™ LED Lighting: Standard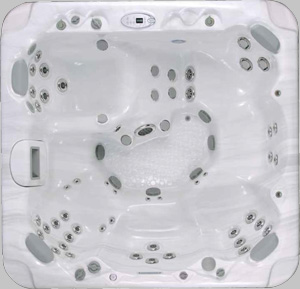 Empire

89″ W x 40″ H x 93″ L
Dry Weight: 920 LB
Average Full Weight: 5302 LB
Seating Capacity: 6-7
Jets: 13 Passive Impact CFE, 46 Direct Impact, 1 Whisper Clean, 1 Vortex, 2 LED Laminar
Valves: 9
Power: 220V/50A
Heater: 4kw
(2) 1-Speed Pump 390 GPM
(1) 2-Speed Pump 240 GPM
(1) Circulation Pump: 35 GPM
Luxury Splash™ LED Lighting: Standard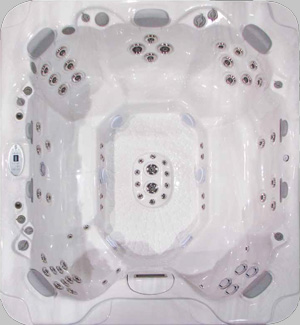 Broadway
92″ W x 40″ H x  108″
Dry Weight: 1200 LB
Average Full Weight: 7835 LB
Seating Capacity: 9
Jets: 8 Passive Impact CFE, 66 Direct Impact, 1 Whisper Clean, 1 Vortex, 2 LED Laminar
Valves: 11
Power: 220V/50A
Heater: 4kw
(2) 1-Speed Pump 435 GPM
(1) 2-Speed Pump 240 GPM
(1) Circulation Pump: 35 GPM
Luxury Splash™ LED Lighting: Standard