Saratoga Special Edition Spas


Saratoga's Special Edition line of spas provide a strong value to price. They are models that offer a great balance of size, therapy and special features as part of their standard design.
For pricing, please call our Chelmsford location at 978-250-0106, or our Leominster location at 978-537-7223.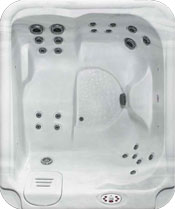 B15
57″ W x 29″ H x 80″ L
Dry Weight: 385 LB
Average Full Weight: 1638 LB
Seating Capacity: 1-2
Jets: 15
Power: 220V/50A – 110V/20A
Heater: 1kw or 4kw
(1) 2-Speed Pump: 140 GPM
LED Lighting: Standard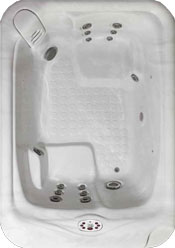 A24
67″ W x 29″ H x 80″ L
Dry Weight: 500 LB
Average Full Weight: 2504 LB
Seating Capacity: 2-3
Jets: 24
Power: 220V/50A
Heater: 4kw
(1) 2-Speed Pump: 195 GPM
LED Lighting: Standard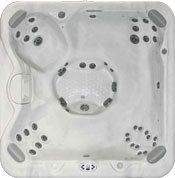 C35
84″ W x 38″ H x 84″ L
Dry Weight: 780 LB
Average Full Weight: 3911 LB
Seating Capacity: 5-6
Jets: 1 Passive Impact, 41 Direct Impact
Valves: 2
Power: 220V/50A
Heater: 4kw
(1) 2-Speed Pump: 195 GPM
(1) 1-Speed Pump: 195 GPM
LED Lighting: Standard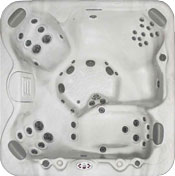 C40
84″ W x 38″ H x 84″ L
Dry Weight: 750 LB
Average Full Weight: 3880 LB
Seating Capacity: 5
Jets: 1 Passive Impact, 47 Direct Impact
Valves: 3
Power: 220V/50A
Heater: 4kw
(1) 2-Speed Pump: 195 GPM
(1) 1-Speed Pump: 195 GPM
LED Lighting: Standard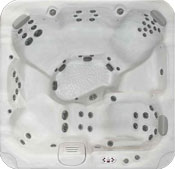 R45
84″ W x 38″ H x 90″ L
Dry Weight: 750 LB
Average Full Weight: 4297 LB
Seating Capacity: 6
Jets: 1 Passive Impact, 52 Direct Impact
Valves: 3
Power: 220V/50A
Heater: 4kw
(1) 2-Speed Pump: 195 GPM
(1) 1-Speed Pump: 195 GPM
LED Lighting: Standard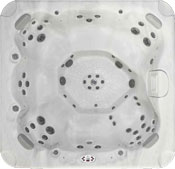 G50
89″ W x 40″ H x 93″ L
Dry Weight: 920 LB
Average Full Weight: 5302 LB
Seating Capacity:
Jets: 1 Passive Impact, 56 Direct Impact, 2 Laminar LED
Valves: 4
Power: 220V/50A
Heater: 4kw
(1) 2-Speed Pump: 195 GPM
(1) 1-Speed Pump: 195 GPM
LED Lighting: Standard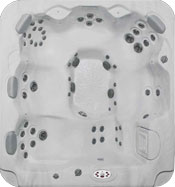 L50
90″ W x 40″ H x 94″ L
Dry Weight: 920 LB
Average Full Weight: 5302 LB
Seating Capacity: 7
Jets: 1 Passive Impact, 56 Direct Impact, 2 Laminar LED
Valves: 4
Power: 220V/50A
Heater: 4kw
(1) 2-Speed Pump: 240
1) 1-Speed Pump195 GPM
LED Lighting: Standard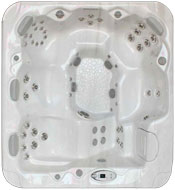 Regent
84″ W x 38″ H x 90″ L
Dry Weight: 750 LB
Average Full Weight: 4297 LB
Seating Capacity: 7
Jets: 6 Passive Impact CFE, 47 Direct Impact, 1 Whisper Clean, 1 Vortex
Valves: 6
Power: 220V/50A
Heater: 4kw
(1) 2-Speed Pump: 240 GPM
(1) 1-Speed Pump: 240 GPM
Circulation Pump: 35GPM
Luxury Splash Lighting: Standard