Legacy Edition Interior Finishes
One of the most important features of your pool is its interior surface, which is why we offer finishes that provide upscale beauty and peace of mind for years to come. Our interior pool finishes are soft to the touch, resistant to ultraviolet rays and bacterial growth, and custom-manufactured for an exact fit. They are also far easier to clean than other surfaces, meaning less time working on your pool and more time swimming in it!
CLASSIC: refined, elegant & timeless
GEOMETRIC: clean, simple & sophisticated
CONTEMPORARY: smooth flowing profiles
Simple Color Guide



Our TRUEDGE™ design technology enhances the visual appeal of your pool by eliminating the unnatural line of color at the edge of most pool interior surfaces, giving your sidewall the true look of tiling craftsmanship.
Select Series
Features a 27 mil wall and a 20 mil floor thickness, for added protection where it's needed most.
Super Select Series
Offers a 27 mil wall and a 27 mil floor, giving you the ultimate protection.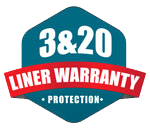 Borderless & Impressions
Borderless Patterns
No interest in a tile design? No problem! Your floor pattern can extend all the way up the sidewall. The choice is yours!
Impressions
For your pool entry system, we offer "Impressions," a textured slip-resistant print design built for added comfort and safety to this high-traffic area.