Contempra Above Ground Steel Pools by AQUA Leader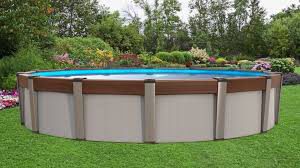 Created to satisfy the tastes of increasingly sophisticated customers, AQUA LEADER and ALTO DESIGN once again redefine the industry standard. Having strongly influenced design and innovation in this industry for over 25 years, they introduce the refinement of all refinements…the experience of all experiences. Introducing CONTEMPRA, a totally different and totally impressive class of pool.
COLORS AND FORMATS: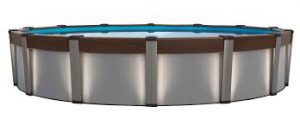 CONTEMPRA seats are printed with an evocative walnut pattern. Structural components are bronzed steel in appearance with metallic highlights, while its polypropylene connecting parts are enhanced by a chocolate brown color.
The wall is printed with a light tone-on-tone graphic, allowing the structural components to appear to full advantage.
Available in round version only: 15, 18, 21, 24, 27, 30 and 33-foot diameter.
Top Rail:
19″
Upright:
8″
Top Cover:
Resin Top Cover
Bottom Rail
& Base Plate:
Galvanized Steel
Liner:
20 Mil GLI Classic Beaded
Hardware:
Stainless Steel
Equipment:
Hayward S180 Sand Filter with 1 HP Pump, 27′, 30′ and 33′ pools come with S210 Sand Filter with 1 1/2 HP PowerFlo Pump
Ladder:
Resin, Confer 7200 Roll-Guard Safety Ladder
Skimmer:
Wide Mouth
Maintenance Kit:
Vacuum Head, 12' Vacuum Pole, Vacuum Hose, Leaf Net, Thermometer, Test Kit, and Chemical Start-Up Kit
Deluxe Package Includes:
Standard Package PLUS Winter Cover, Solar Cover, and New Water Chlorine Feeder
Super Deluxe: Add an Automatic Pool Cleaner!
TECHNICAL INFORMATION
All metal parts are made of higher-gauge steel for superior strength over the entire pool frame…the strongest in the industry.
To make this possible Aqua Leader has developed a reinforced steel core with a magnesium, aluminum and copper coating that increases rust protection by 72%.
Before this protective coating is applied, the steel core is pre-treated with a micro-crystalline zinc phosphate. This prevents oxidation reactions caused by the environment and provides high-standard resistance to corrosion.
All structural parts are manufactured by an exclusive "Double Coat "system that includes a heat-setting polyester compound to ensure long-term appearance and durability.
The printed pattern is then applied, using a mixture of liquid inks and embossing powders. This allows Aqua Leader to show enhanced detail in each pattern. The result is a finished look superior to any competing brands.
AQUA LEADER is an award-winning manufacturer with a major reputation for innovative swimming pool design. All these features will exceed your expectations and provide protection superior to any other swimming pool on the market today.